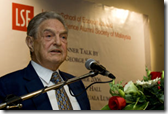 Vía: Teleread
On March 24, George Soros delivered a finished manuscript by e-mail to PublicAffairs, his publisher, where I am founder and editor-at-large. Soros had concluded that the current turmoil is "the worst financial crisis since the 1930s." He wanted his analysis, titled The New Paradigm for Financial Markets, available immediately.
Ten days later, on April 3, having been through the full range of publishing procedures-copy-editing, design, proofreading, and so on-the book was offered for sale, exclusively as an e-book. It was available through every major Web retailer, including Amazon's Kindle, Sony's Reader, booksense.com (which serves independent booksellers), and Overdrive (which supports hundreds of library systems). By its first evening, the book was #12 among Kindle's "bestsellers." The printed book (and a downloadable audio and large-print on-demand version) will be for sale on May 19, but based on pre-orders, it was #110 among Amazon's overall listing.
In principle, and with certain technical limitations described below, the Soros book was now "published." The distribution of books, like information and entertainment of all kinds, is being transformed. The impact will be profound, and unlike our counterparts in news, the effect can be all positive. Books have no advertising to lose and no subscribers to maintain. The biggest challenge to authors, publishers, and booksellers has been to make books available when, where, and how the consumer wants them. Technology, innovation, and eventually popular demand can now make the world of books significantly stronger than it has ever been.