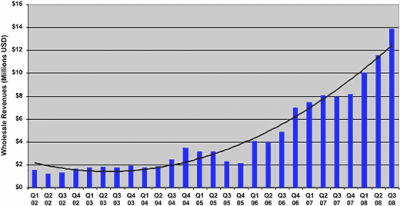 Vía:
Teleread Bring the Ebooks Home
Here is the Executive Summary of a new Forrester report on ereaders. It certainly is very encouraging and seems to echo what I've been saying for a long time - that the ebook/ereader market is not a zero sum game and the entry of a large player, like Amazon, is just a competitive blip, as the market is too immature to worry about monopolization.
The eReader market is hot: Barely a day goes by without an announcement of a new device release or acquisition. Amazon.com, leveraging its position as a dominant book retailer, has catalyzed the market for eBooks, but that's just the beginning of the eReader revolution. Competitors will attack Amazon's market position by launching new features, expanding content beyond books, dominating markets outside the US, reducing costs, and improving relationships with publishers. While frequent book readers drive device and content sales today, the next five years will see an explosion of the eReader textbook market, and in 10 years, the market will be driven by businesses going green in government, education, health, and other sectors. With retailers, mobile operators, and device manufacturers all vying for a piece of the eReader action, publishers should proactively shape their own eReader opportunity — or miss their last best chance to control their own destiny.
You can get some more details of the report at E-Reads. Unfortunately, it costs $2,000 so I won't be ordering a copy.